Sollicitudin eros nulla mus donec quisque convallis integer condimentum volutpat.
What Is Social Media Advertising?
Conventional marketing methods are not enough to build a loyal and highly engaged customer base in today's digital age. It would help if you met people where they are active and tailored your brand message to specific audience segments to reach more consumers at a low cost and generate a better return on investment (ROI).
More than any other marketing strategy, social media advertising helps maximize your brand's visibility and provides lucrative opportunities to attract and nurture leads and transform them into paying customers.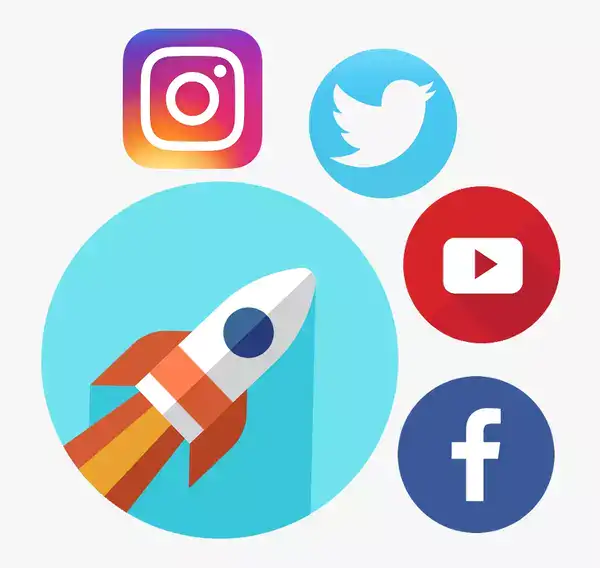 Social Media Advertising Services
Social Media Marketing
Running ads on social media is a surefire way to acquire new customers and repeat business – but our social and Facebook ads agency doesn't just stop there. Besides social advertising and Facebook ad management services, we offer social media marketing solutions to support your conversion rate optimization (CRO) efforts. Our social media marketing experts conduct in-depth social media audits to develop your marketing and launch sustainable campaigns.
Social Media Management
FFITBD is more than just a social and Facebook advertising company: We serve as your social media managers. From building an effective social and Instagram advertising campaign and monitoring social media advertisement results to overseeing multiple social media accounts, our social media management firm can handle it all for you. We help you decide on the right social media platforms and marketing strategy for your business to bring in the most results and ensure your online growth.
Social Media Brand Management
Our agency combines social media management and different types of social media advertising – such as Instagram, TikTok, LinkedIn, and Facebook advertising services – to showcase your unique brand voice and ensure all customer touchpoints are covered. Our goal is to make your brand more inclusive and consistent across platforms. We can also connect you with our web design specialists to make your website ADA compliant and ensure all site elements align with your social branding.
Social Media Follower Growth
Build a robust social media presence and attract high-converting social media followers! Our social and Facebook advertising company representatives capitalize on data-driven social media marketing and advertising solutions, including Twitter, Pinterest, and Facebook ad management services, to help you gain customer traction and increase followers across platforms. We optimize your social profile, engage post content, create a strategic posting schedule and launch targeted social media advertisements to achieve your growth goals.
Social Media SEO
The benefits of social media and Facebook advertising services go beyond improving your social media presence. The relevant social media advertising and marketing strategy could bolster your brand exposure and drive qualified leads and traffic to your website. Our social advertising and Facebook ad agency representatives work closely with you to determine your best-performing website content, share it on your social media pages, and boost its reach through laser-focused social media promotions and Facebook advertising services.
Video Production
Incorporate video ads on your social and Facebook advertising strategy and get incredible engagement rates! Is your team lacking the skills and resources to create appealing video ads that fit the requirements of different social media advertising platforms for business? Our social media advertising and Facebook ad management services experts are here to help. We design video ads for mobile and sound-off viewing and keep your ads no longer than 15 seconds to encourage viewers to take action within the first three seconds.
Social Media Content Writing
Entrust your social media content writing to our social and Facebook advertising agency and let us help you cement your position as the go-to brand of customers. We conduct extensive market research, industry analysis, and audience targeting strategy assessment to gain actionable insights and guide our content creation process. Our paid social media advertising experts perform A/B testing before launching your social ads to ensure we develop well-optimized ad copies and landing page content that compels users to take immediate action.
Social Media Reputation Management
Do your Facebook advertising strategy and social media marketing tactics involve reputation management? Stay on top of conversations about your brand, and don't let any harmful content tarnish your treasured reputation. Our social and Facebook advertising agency representatives work with Rize Reviews' reputation managers to track your social media reviews, streamline your review response publishing process and leverage positive reviews on your paid social ads.
Why Your Business Needs To Use Social Media Advertising
The social media landscape is constantly evolving. New social network advertising channels rise to prominence every year, and consumers' buying behavior and expectations dramatically change. Relying on organic social media campaigns alone won't cut it.
Paid social media advertising is one of the best ways to monetize the best social media platforms for various business niches and ramp up your customer acquisition, conversion, and retention rates. According to a Marketing Experiments study, using the correct targeting approach can boost your conversion rates by up to 300 percent, and paid social media advertising can help you with that.
Increase Follower Growth Rate
Paid social advertising lets you quickly hone in on specific audiences and reach new market segments. By advertising on social media, FFITBD has helped a gaming company get a total of 290,137 people and acquire 1,600 new Facebook followers, 1,000 new Instagram followers, and 155 new Twitter followers in four months!
Boost Organic Posts
Are you working on a limited budget? Begin advertising using social media to amplify your organic posts' online reach. Different social media advertising channels provide flexible ways to turn your top-performing content into social media ads and reach people who are highly interested in what you're offering.
Ramp Up Website Conversions
Advertising through social media doubles your conversion rates while cutting marketing costs by a third. Within six months of launching a fitness center's paid social media advertising campaign, we generated $143,319.92 website purchases conversion value at an average cost per click (CPC) of just $8.03.
Drive More Clicks and Views
Online users are more active on various social media advertising channels because they offer a fun and easy way to interact with their favorite brands. Advertising on Facebook helped a leading advisory firm generate 41,074 clicks, while its Twitter advertising campaign drove 625,932 impressions in only ten months of activity.
Attract Qualified Leads
Depending on your marketing intent, you can optimize social ads landing pages to drive targeted leads and remarket those who failed to convert on-site. A cohesive social networking ads strategy allows you to personalize your offer and split campaigns by age level, occupation, or gender, capturing qualified leads and pulling them into your sales funnel.
Generate Direct Sales
Whether you're introducing new collections to past customers or deploying seasonal offers to motivate targeted consumers to purchase, launching time-sensitive offers is made more accessible and more profitable through social advertising. Paid social media campaigns are a convenient, low-cost option to influence consumers' buying decisions and generate more sales.
Frequently Asked Questions
We have listed everything for our customers. Still, if you find any doubt, you can connect with us via Email or Social Media Network. Here are answers to some Frequently Asked Questions.